Money Doesn't Have to Keep You Up At Night…
…And once you live in that truth, you're able to truly take control of your life. You get back more time to spend with your family, and you can rest assured that they have financial security.
I WANT THAT!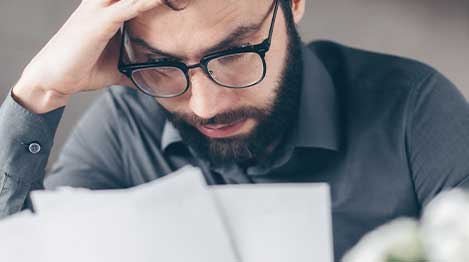 Financial Clarity + Money-Making Strategies
Nearly half of Americans say money negatively impacts their mental health…
Rather than taking control of their finances, their finances control them
They try to "budget" and fail, which only leads to their money taking more power over them
They choose to "fly by the seat of their pants" instead of actually facing their finances
All of these create a disconnect between you and your money.
WHICH LEADS TO
Less money in your pockets (BECAUSE YOU DON'T KNOW WHERE IT'S GOING)
Financial fear & confusion (MANIFESTS AS DAY-TO-DAY STRESS & FEELING NOT IN CONTROL)
Daydreaming about the lifestyle you want (INSTEAD OF ACTUALLY LIVING IT)
You've likely come across plenty of people on the internet promising something along the lines of Financial Freedom…
Here's how I do it differently:
No more nights spent "budgeting" or staring resentfully at the 2-foot stack of bills and financial documents in your closet…
1
Clarify
Get all your finances in order and create a clear financial foundation (AKA taking that dreaded stack of bills in your closet and turning it into 3 pieces of paper that you actually need)
2
Multiply
Show how you can make your $$$ work for you multiple times over (instead of working against you and draining your wallet)
3
Automate
Create a system that runs on autopilot, so you can work less (and spend more time living the life you've been dreaming about)
4
Elevate
Implement actionable steps that scale your business (to create a seamless cycle of revenue to fund the lifestyle you want)
A little about me:
I used to stress out about finances…
…And once I had kids, I became responsible for more than just myself. I had to step up and provide for my family. I realized that I needed a plan.
to use all my education and experience to
create a powerful framework…
…Which has allowed me to stop stressing, work less, and spend more quality time with my kids…
AND (MOST IMPORTANTLY) BE A GREAT DAD.
In the business of getting you covered
Bill has done it again! I have Blue advantage for my fiancé and myself! I'm paying less than $10 a month!! Thanks Bill!!
Melissa G. Newport, NC
As a new agent, Bill has spent numerous hours making sure that I have the tools to succeed. He's suggested training modules, and given step by step list of priorties and what stages to engage them. He has made getting started easy. Many of our meetings ran a little longer than usual, but. He continued making himself available for any questions or concerns.
Fred McCray
Bill did a phenomenal job explaining numbers to a non-numbers person! Bill helped me learn content in a very concise, easily digestible way. I have always been intimidated by the world of credit and finance; but Bill explained all in a way that gave me confidence. Bill holds a wealth of knowledge in so many aspects. Very highly recommend.
Gillian Morrow
Bill answered all our questions and gave us info I didn't even realize we needed. So helpful and made it so easy. Will definitely recommend him to all our friends.
Cristal Marriner
Where do I start?
Not sure where to even start
with your financial situation?
THEN CHECK OUT…
CASHFLOW ACCELERATION CALL
Hop on a call and I will help you find and map out attainable next steps to live free from money anxiety.
LET'S GO
Wanna learn more about what we do?
THEN CHECK OUT…
HEAR FROM WILLIAM AVON
Hear more about how my framework gives you financial clarity, multiplies $$$, and more.
LEARN MORE
Just looking to stay covered?
THEN CHECK OUT…
INSURANCE PLANS
Check out my plans for auto, home, and life insurance that let you and your family live more freely.
GET A QUOTE